---
Latest News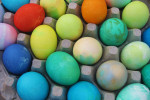 As always, the Spring Fling will be the Saturday before Easter, April 4, from 10 a.m. to noon! We are collecting individually wrapped candy for the Easter Egg Hunt. There is a grocery cart in the Holy Grounds Café for the candy. We will need lots of happy volunteers to help us, too. Please sign…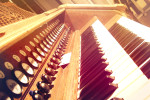 Thursday, April 9 at 7:00 pm. Open Console, an informal meeting where anyone who wishes may play the SFN Mighty Wurlitzer. As always, we need volunteer players to entertain the listeners and volunteer listeners to inspire the players.
Saturday, April 11 (8am to Noon) — We hope you will join us as we prune, rake, sweep and clean our property. Also, the windows, inside and out, need cleaning! So there is really something for everyone to do. Bring the whole family and let's work together. Coffee and donuts will be provided!
---
Pastor's Blog
Whoever accepts and trusts the Son gets in on everything, life complete and forever! John 3:36a (Message) In living a faithful life, there are several steps to take. First, you must invite Jesus into every room of your life. I have shared this example, but envision your heart is like a house with many rooms….
"We will celebrate and praise you, Lord!  You are good to us, and your love never fails.  No one can praise you enough for all the mighty things you have done.  You bless those people who are honest and fair."  Psalm 106:1-3 There are days in life when I can focus on everything that is…
"By faith, Noah built a ship in the middle of dry land. He was warned about something he couldn't see, and acted on what he was told …. As a result, Noah became intimate with God."   Hebrews 11:7 (MSG) Use your imagination with me for a moment: One day God comes to Noah and says,…