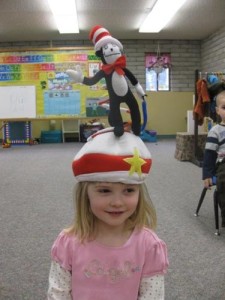 Purpose & Activities
REGISTERING NOW FOR FALL!
All Stars Preschool is a ministry of Spokane First Church of the Nazarene serving our church families and the community. Our mission is to prepare children to take the next step in their spiritual, educational and social development.
Fundamental skills are developed in pre-math, alphabet, phonics, colors, Bible, science, social behavior, name recognition, name writing, and motor skill development.
Special activities: Pumpkin patch field trip, and programs round out this educational, fun-filled curriculum.
 The Environment
Has a large, safe, well equipped classroom that fosters learning
Has a spacious, enclosed outside play area with equipment that encourages play and physical development and a gym for rainy day recesses
Has a convenient child size lavatory
Our Philosophy
Each child:
Is created in the image of God
Is unique
Develops at his/her own rate
Has different learning styles
Our Teachers
Both have a BA degree in Elementary Education and years of experience in early childhood education
Serve as a Christian model
Work cooperatively with parents
Work with the class and each child individually
---
What parents are saying:
 My husband and I looked for a preschool for our daughter for close to a year.  We wanted a loving environment that was priced reasonably and had some structured learning time.  We found all of those things at All Stars Preschool.  Our daughter loves attending school here.  She has formed bonds with the staff and made memories that will last a lifetime.  My husband and I are so impressed that we've already signed our younger daughter up for the fall.

– Happy parent, Crystal F.
"Thank  you All Stars Preschool program for the positive and rewarding program you offer the children.  Kolten has been eager to go to school and learn since he was able to talk, and this year in preschool has been fantastic for him.  He looks forward to going to school each day, he has the opportunity to learn how to interact with other students in a positive way and he has learned to discipline himself in the classroom.  He has made academic strides that I find amazing.  The class sizes are small and the teachers care about the kids and are amazing people.  This has been a fantastic preschool experience that I am very happy my son was able to be a part of.  He is looking forward to kindergarten and I am confident he is prepared thanks to his preschool program.   Thank you so much!
– Deann
"Ardis & Janice:  We have been so pleased with the amount of learning that Brady has demonstrated this year.  His counting and letters have really come along thanks to both of you.  We would recommend you as preschool teachers to anyone who is looking for a wonderful learning environment."  Thank you!
– Sarah A.
---
How to apply?
Please register in person at the church. Bring this application filled out: All Stars Preschool Application The church address is 9004 N. Country Homes Blvd. Spokane, WA 99218.
Tuition
Annual registration fee due at time of registration (non-refundable):   $65.00
Payment schedule:
All fees must be paid  by the 1st of the month and are late if not paid by the 5th. A late fee of $15 will be added after the 5th of each month.
Tuesday/Thursday: $115.00
Tuesday/Wednesdays/Thursday: $145.00
A late fee of $15 will be charged if received after the 5th of the month.  
There is a $25 fee charged on all returned checks.  
---